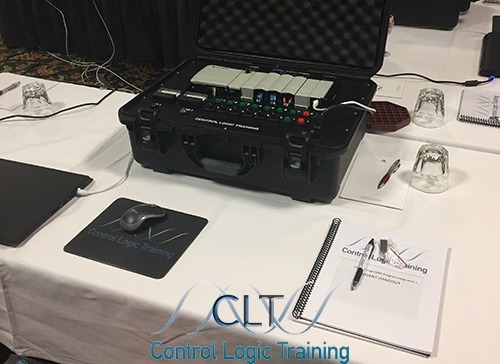 A Quality & Informative Training Program
Control Logic Training is a Las Vegas company dedicated to providing a quality and hands-on RSLogix 5000 training program. We offer Programmable Logic Controller technical education focusing on the RSLogix 5000 software. We strive to meet the educational goals of every one of our students by offering a range of RSLogix training courses tailored to fit the knowledge and experience of both beginners and experts.
Rockwell Automation and its line of ControlLogix and CompactLogix controllers are among the latest and most powerful additions to the Rockwell Software line of Programmable Controllers. Innumerable processes and machines worldwide are controlled by these Rockwell Automation Programmable Logic Controllers and the RSLogix 5000 software.
RSLogix 5000 software is an IEC 61131-3 compliant software package that offers flexible, easy-to-use editing features, diagnostics, and troubleshooting tools that assist in the creation and management of new projects, ladder logic, I/O tags and monitor data, graphical function block diagrams, and many other features that allow you to develop and optimize application programs.
RSLogix 5000 and ControlLogix-Studio 5000 are approachable user-friendly interfaces that facilitate programming the current generation of Programmable Controllers. When using engineering automation solutions such as RSLogix 5000 it is beneficial to study precisely how the system works, the changes to the platform, and the various controllers, modules, and form factors in use today. Possessing a solid grasp of how these Programmable Logic Controllers and the RSLogix 5000 software works is crucial to anyone who works with, or wants to work with modern equipment or the integrated systems that control them. RSLogix 5000 classroom training will help you in your current job by allowing you to maximize performance, save project development time, and improve efficiency for you and your business. Furthermore, possessing the knowledge and skills obtained during an RSLogix training program can assist you in gaining the skills necessary for any potential job you might seek in your career.
At Control Logic Training, we strive to provide, both beginners and experts, a quality and informative training program. We offer beginning courses designed to teach the fundamentals of programmable language controllers, as well as offer intermediate and advanced level training courses that explore RSLogix 5000 and its related systems in much greater depth.
RSLogix 5000 courses are beneficial for any individual interested in the function of Programmable Logic Control systems and for technicians and companies that utilize Programmable Logic Control systems regularly throughout their business. RSLogix 5000 class training is often extremely beneficial for software technicians, maintenance personnel, or engineers who seek improved maintenance, diagnostic, and troubleshooting skills which will allow for minimized system downtime and increased efficiency.
An RSLogix 5000 course often begins with an overview of the hardware used and transitions into an introduction of the RSLogix 5000 software. You will be exposed to basic RSLogix5000 features, concepts, and frequently used terminology. You will be introduced to RSLogix 5000 system hardware and obtain quality, hands-on, experience with the system. Additional opportunities include utilizing RSLogix 5000 software to perform system configuration, project management and creation, programming, diagnostic, and troubleshooting tasks. Students will also receive a quality understanding of the structure of the ControlLogix-Studio 5000 program, by offering a straight forward approach to learning the essential RSLogix 5000 hardware and software components. Overall, RSLogix 5000 hands-on training provides beginners and experts with a valuable hands-on experience, and a solid comprehension and understanding of the features and terminology utilized in an RSLogix 5000 platform and how to implement those features to benefit their own automation systems used in their business.
The engineers and technicians who teach RSLogix 5000 courses have extensive product expertise and decades of years of project and application experience with a multitude of different systems including: Allen Bradley PLC (PLC/5 SLC500 and Control Logix family processors), Rockwell Studio 5000 software, Control Net, Device Net DH+ and Remote I/O networks Installation and troubleshooting. We are confident that through our RSLogix 5000 training courses and the experience and knowledge our engineer will introduce to you, you will leave our training course with additional knowledge and skills that will positively impact the productivity of your automation systems and controllers, and ultimately your business.